We are delighted to be stockist of Pfaff sewing machines, one of the best brands on the market who have been making and selling high quality sewing machines for 150 years. We have several different machines for you to try, suitable for your skills and experience as well as your sewing goals.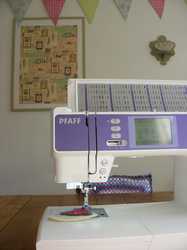 Whether your passion is machine embroidery, curtain making , dress making, applique or patchwork you'll be delighted with the performance of these super sewing machines.
If you would like to book a free sewing taster session please ring Jo on 0777 578 0533.
I'm sure you'll love them as much as I do!